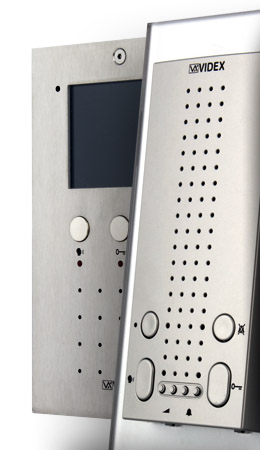 The recently introduced 5000 Series range of hands free (simplex or voice switched depending upon model) audio and video monitors can be identified by their slim and compact design, allowing the 5000 series units to be used in areas where space is limited.
The hands free voice switching technology delivers excellent audio quality and efficient noise cancellation (larsen effect). The choice of manufacturing technology has resulted in the slim and compact design.
The Eclipse range has "answer/recall", "door open" and "privacy on-off" (which are user programmable) buttons common to all products (except Art. 5112 where the privacy service is activated by a switch), service push buttons will vary from model to model (audio intercom or video monitor) but will have a minimum of one. Led's are also provided to give visual indication of functions and system operation.
All Eclipse audio and video units are supplied surface mounting as standard. A flush mounting kit is also available for the Eclipse video monitor.
The installation of the surface or flush audio or video monitors is carried out by attaching the flat ribbon cable on the front panel to the pcb connector board which is housed in the wall fixing plate (the wall fixing plate is the intercom/videophone back cover) once all cables have been terminated into the pcb connector board the ribbon cable can be connected and the front plate can then be securely clipped onto the wall fixing plate.
The Eclipse video monitor is only available with a colour 3.5" active matrix LCD display. Standard controls include call tone volume (some versions include a choice of call tone melody), speech loudspeaker volume and image brightness and hue controls.
In addition to the standard polar white finish, the Eclipse range of audio and video monitors in surface, flush and including optional handset kits are available in two additional colours:
Carbon Fibre effect (add "/CA" to the product code when ordering).
Silver (add "/CR" to the product code when ordering).
Recently VIDEX has further expanded the
5000 Series
eclipse range to include intercoms and videophones for "4+1" audio door entry systems or traditional video door entry systems using composite video signal (coax cable) or balanced (twisted pair) and for VX2200 ("2 Wire BUS" audio, "6 Wire Bus" video) and VX2300 ("2 Wire BUS" video) digital systems.
For harsher environmental applications, to complete the range, Videx have introduced a Vandal Resistant hands free video monitor (Art. VR5478) and a Vandal Resistant hands free intercom (Art. VR5178) both for use on the popular VX2200 digital system. These units are manufactured with brushed 2.5mm stainless steel face plate and are designed for flush mounting only.
The functions and controls as indicated above may vary and will depend on the system used.
Select a product