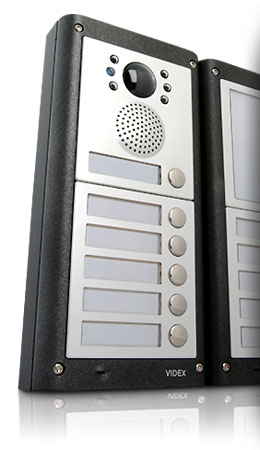 The 4000 Series is a advanced range of modular door panels. The 4000 Series has been designed using the latest 3D modelling software.
The design is characterised by a number of unique features: the modules with front plate and push button are manufactured in mirror finish stainless steel, the frame (which is also the module support) is manufactured from one piece of die-cast aluminium alloy which gives substantial strength to the outdoor station, modules are attached to the module support frame using a simple but strong clip system (vandal resistant modules are secured to the front support frame using studs and fixing rails), the fixing system of the front panel to the back box (flush or surface) uses torx pin machine screws.
The modular system consists of 3 main items:
The modules (standard and vandal resistant line).
The front supports (for flush mounting).
The surface mounting units (for surface mounting).
The module support frame (flush or surface) is hinged to the back box. This allows for ease of cable installation and connection as both hands are free.
The standard finish for the module support frames and surface back boxes is embossed metallized "gunmetal grey" while the module front plates are in mirror finish stainless steel for the standard line and brushed finish stainless steel for vandal resistant line.
The module support frames are also available in two other finishes: high brass PVD (gold chromium effect) and Sky chrome PVD (silver chromium effect).
The module front plates (for the standard line only) are also offered in anodized aluminium and high brass PVD.
Select a category