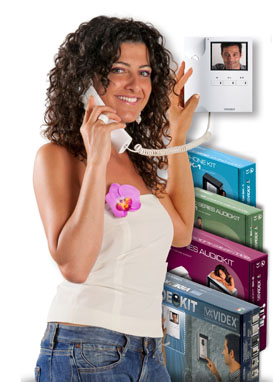 The Widest range of audio and video kits
Our ever expanding range of audio and video kits is due to our policy of continued product improvement and new product development. Two new additions have been introduced to our video intercom range:

3600 Compact colour video intercom
5000 Eclipse Slim Line colour video intercom
The 3600 Compact series is based on and is similar in appearance to the popular 3000 series video monitors but will only be available in a colour version. We can confirm that mono (CRT) monitors are slowly being phased out and replaced with industry standard 3.5" high quality active matrix LCD monitors, which, in time will become the standard for all Videx Video Kits and Video Monitors.
The 3600 is currently available in the following models:
Art.3688 for use on the Videx two wire colour video kits (as CESVK range).
Art.3656 for use on the Videx six wire colour video kit range (CVK4K..., CVK8K... and CVR4KV range).
The 5000 Eclipse Slim Line range of colour video monitors offer the same functions as the standard 5000 range but have been re modelled in the new "Slim design" where the units depth has been substantially reduced by 19mm (from 53mm to 34mm). The new range of "Slim Line" intercoms incorporate built in termination connectors and the wall fixing plate which are all located in the lower part of the unit. The 5000 "Slim Line" range has an optional flush mounting kit available. As a result of this re modelling the "Slim Line" range does not allow for an optional telephone handset to be fitted.
Products that have recently been introduced include the 8000 series audio and video kits, the two wire 4000 series video kits, the 4000 vandal resistant series audio and video kits, and the market leading 4000 series audio GSM kits (using quad band GSM mobile technology), now with additional features added. Videx audio and video kits are not only identified by their modern design, but most now incorporate the latest microprocessor technology and voice switching techniques. This technology has also been incorporated in the manufacture of the 4000 and 8000 range of door panels and the latest range of audio and video intercoms.
All Videx 4000 and 8000 series video kits now offer an extended range of functions which include, intercommunication facility (between video intercoms in the same apartment or among those in a different apartment), timed privacy with LED indication, door monitoring, visual and audio indications to confirm system operation, inputs for "push to exit" service, option for multiple entrance (up to 4 doors) and the use of a six wire common bus for both 1 and 2 way systems.
All kits in the 4000 and 8000 range are also available with an integral codelock (allowing users to open the door by entering their access code). A proximity key reader option is also available for the 4000 range (where the user can open the door by presenting their proximity fob/card to the reader).
All video kits are currently available in colour or b/w (b/w will be phased out over time), 1 or 2 way, flush or surface mounted (determined by the door panel type) and all versions are available in the various finishes which can be found at the back of this brochure.
A memory video phone option is available for many of the video kits. This allows a record of the visitor to be captured (b/w or colour) with a date and time stamp. The visitors record can be captured manually by pressing the relevant button on the video intercom or set to capture automatically when a visitor calls. The memory phone option can be ordered by adding /MV to the basic code of the video kit.
All audio kits using the standard modular systems (4000 or 8000 range) can upon request be expanded up to 12 call push buttons.
Select a category